Movie Images Main Page


GLADIATOR
(2000)
directed by Ridley Scott



---

♠ WALLPAPER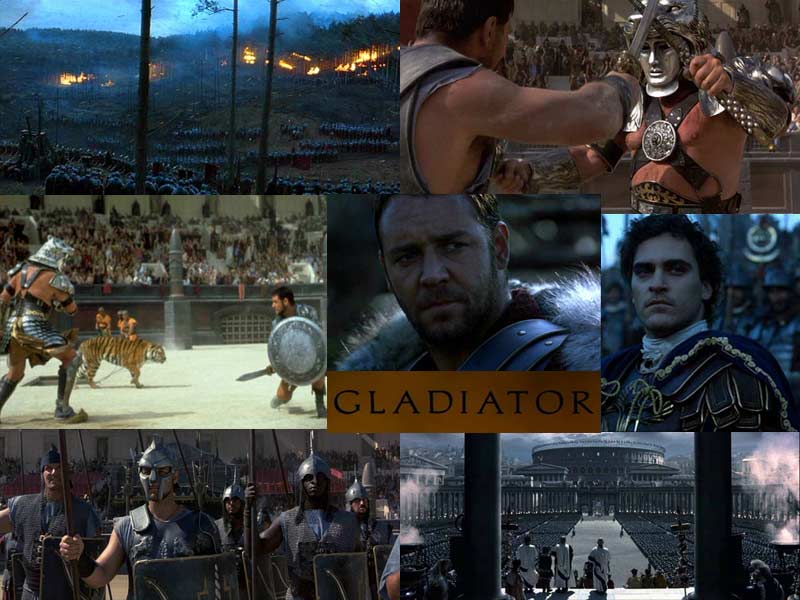 for 1024 x 768 and 800 x 600 resolutions.

♠ SLIDE SHOW
for 800 x 600 and Larger Screen

♠ LINKS
Semi-official Gladiator Website
SimsGladiator

♠ SCREENSHOTS

PART ONE
PART TWO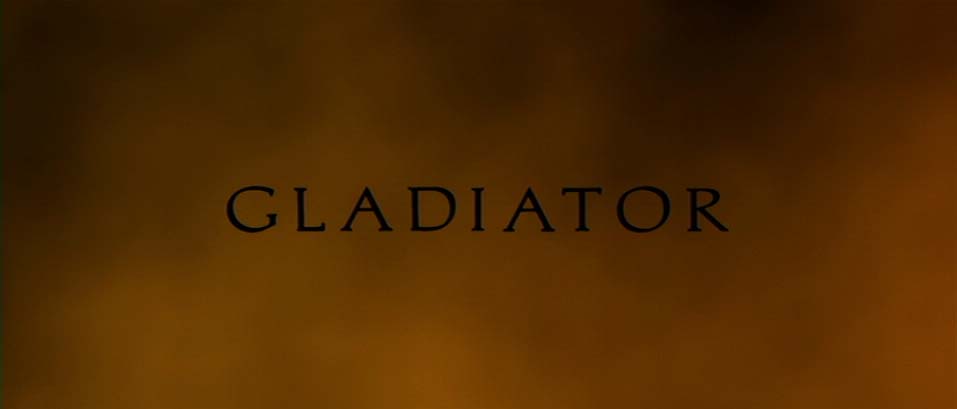 AT THE HEIGHT OF ITS POWER, THE ROMAN EMPIRE WAS VAST, STRETCHING FROM THE DESERTS OF AFRICA TO THE BORDERS OF NORTHERN ENGLAND.
OVER ONE QUARTER OF THE WORLD'S POPULATION LIVED AND DIED UNDER THE RULE OF THE CAESARS.
IN THE WINTER OF 180 A.D. EMPEROR MARCUS AURELIUS' TWELVE-YEAR CAMPAIGN AGAINST THE BARBARIAN TRIBES IN GERMANIA WAS DRAWING TO AN END.
ONE FINAL STRONGHOLD STANDS IN THE WAY OF ROMAN VICTORY AND THE PROMISE OF PEACE THROUGHOUT THE EMPIRE.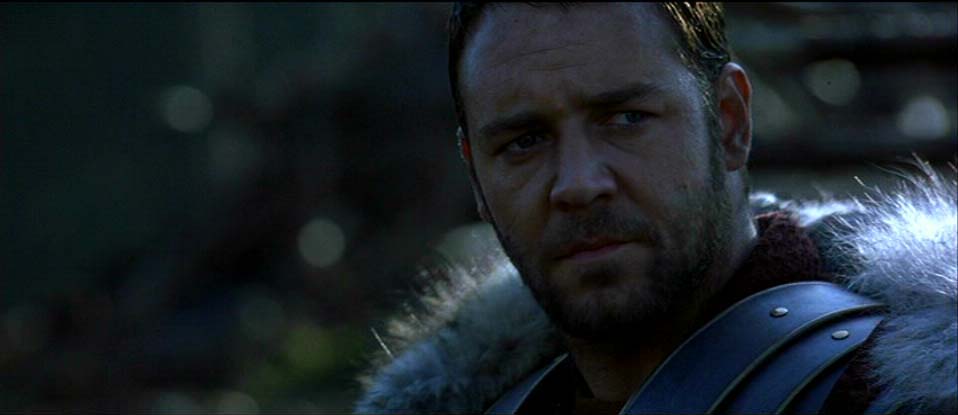 Maximus (who happens to be a grandnephew of Biggus Dickus)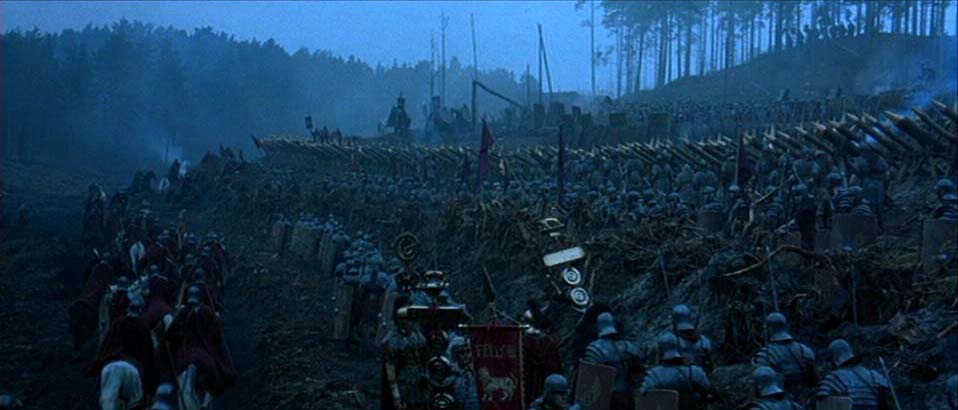 Not surprisingly Maximus has success against the outnumbered barbarians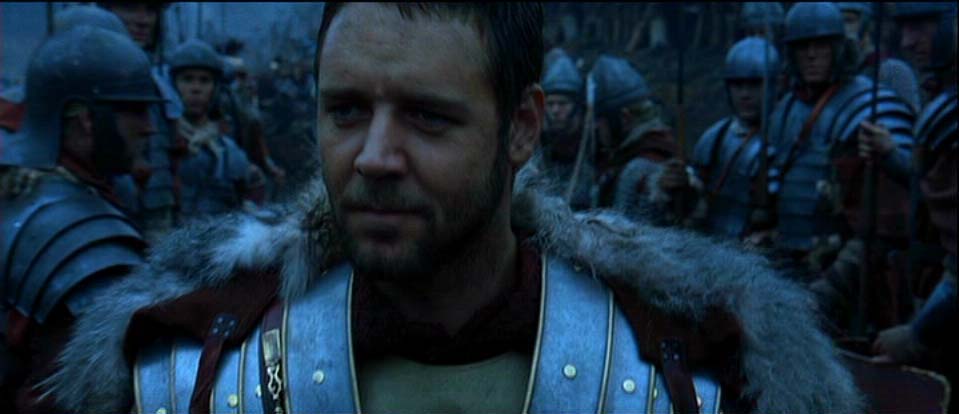 His full name is not clear though. He's Maximus Decimus Meridius according to himself, but Aelius Maximus according to some others.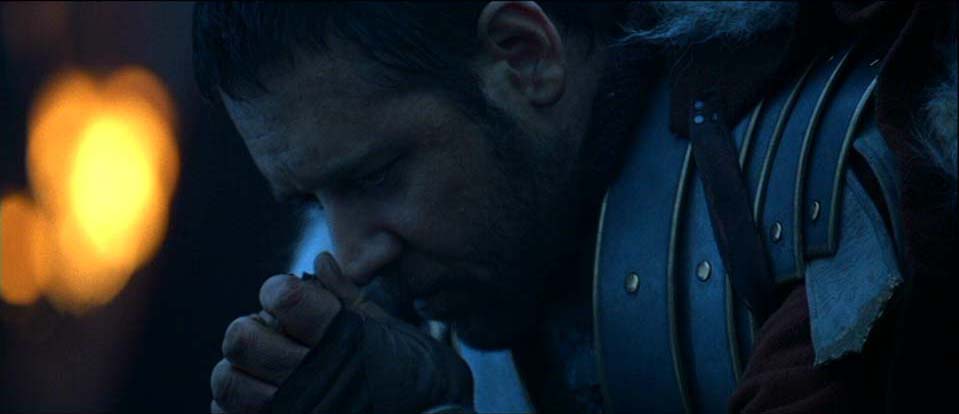 Quintus: People should know when they're conquered.
Maximus: Would you, Quintus? Would I?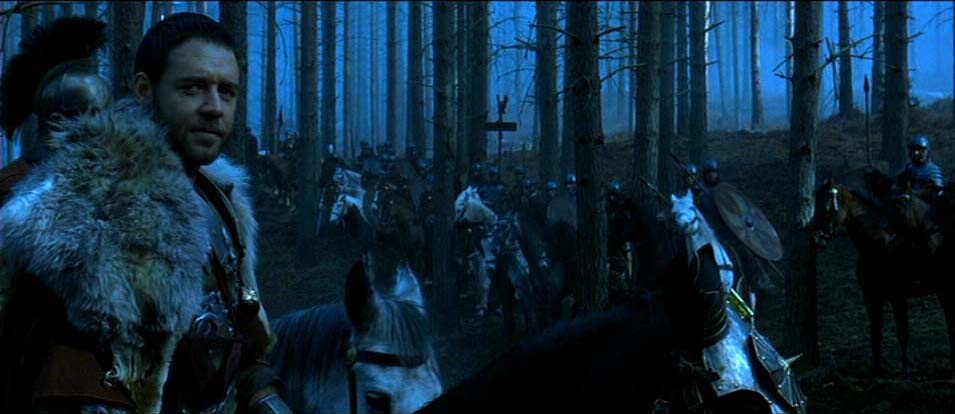 Maximus: Fratres..., three weeks from now I will be harvesting my crops, imagine where you will be and it will be so. Hold the lines, stay with me. If you find yourself alone riding in green fields with the sun on your face, do not be troubled, for you are in Elysium and you're already dead!!!.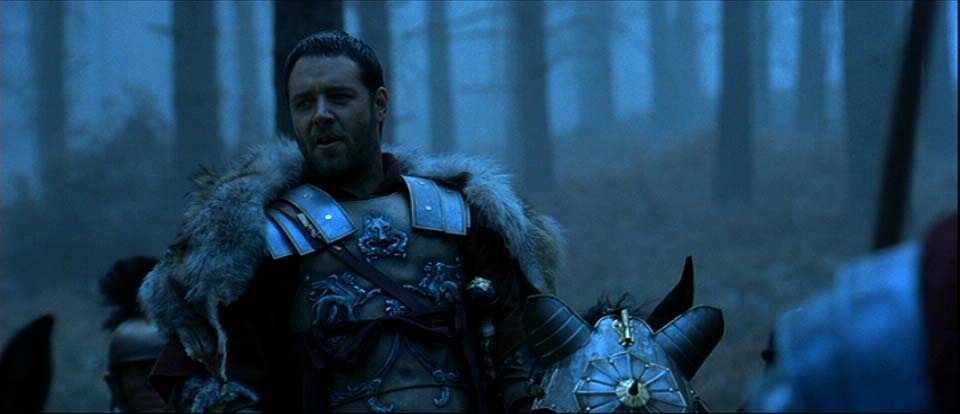 Maximus: Brothers, what we do in life echoes in eternity.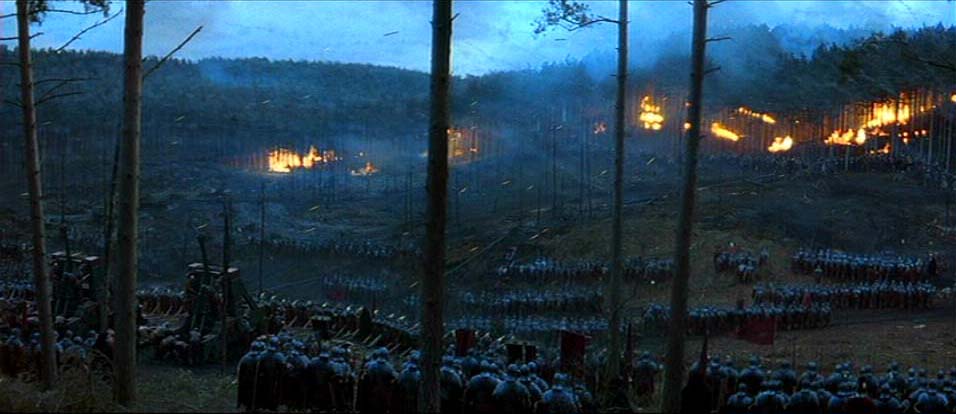 Maximus: At my signal, unleash hell!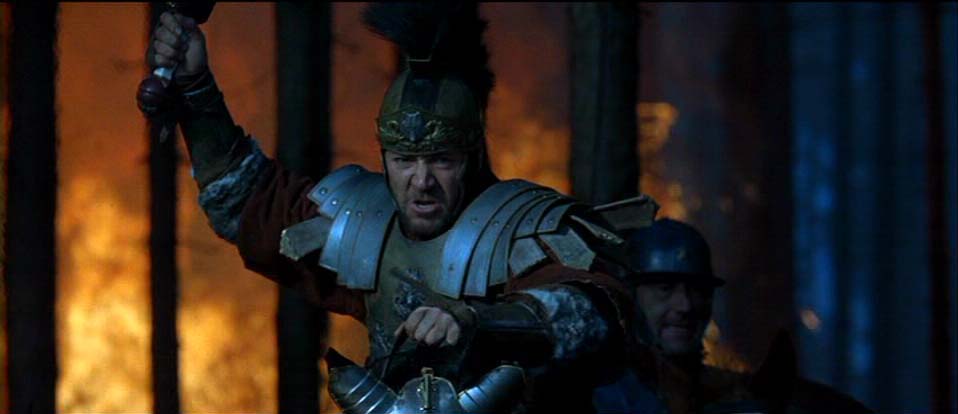 Maximus: Roma victor!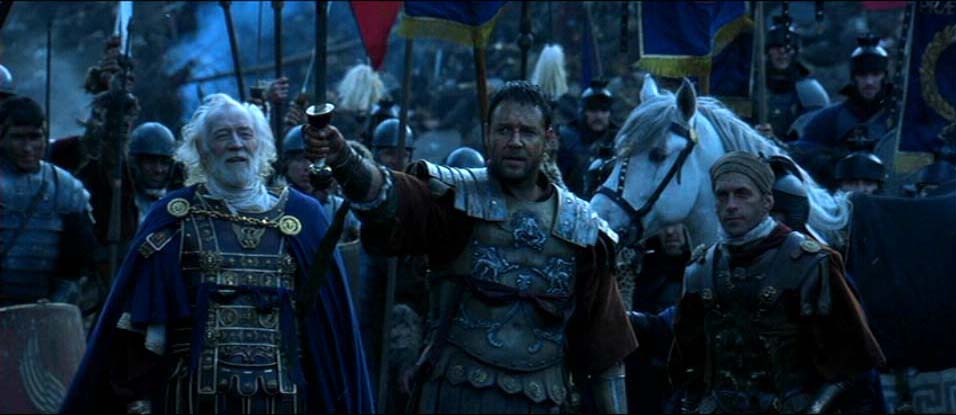 Marcus Aurelius: You have proved your valour yet again, Maximus. Let us hope, for the last time.
Maximus: There is no one left to fight, Sire.
Marcus: There is always someone left to fight. How can I reward Rome's greatest General?
Maximus: Let me go home?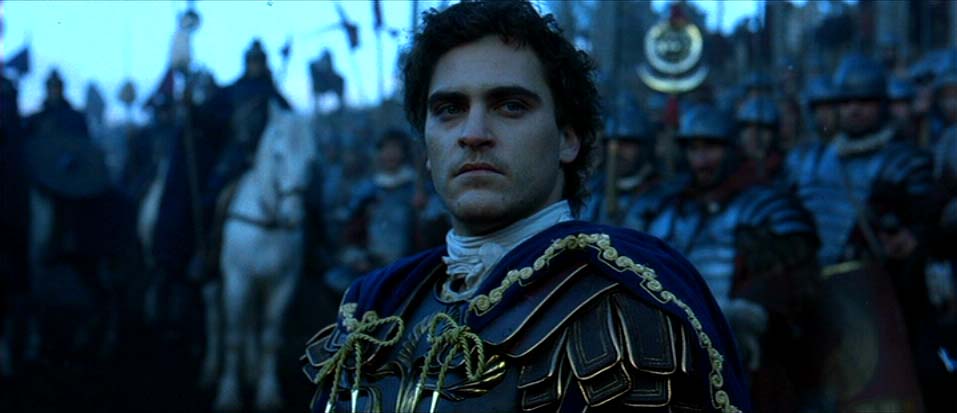 Commodus: Have I missed it? Have I missed the battle?
Marcus: You have missed the war.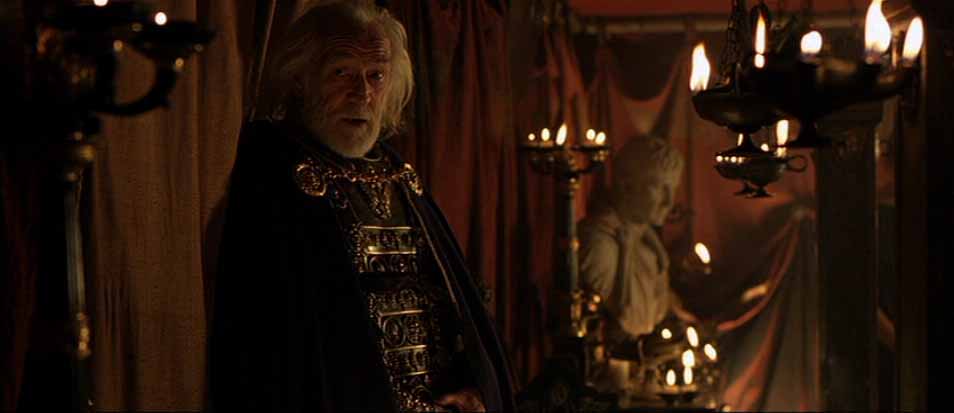 Marcus: If only you had been born a man. What a Caesar you would have made. You would have been strong. I wonder, would you have been just.
Lucilla: I would have been what you taught me to be.
Marcus: Oh. How was your journey?
Lucilla: Long - uncomfortable. Why have I come?
Marcus: I need your help...with your brother.
Lucilla: Of course.
Marcus: He loves you, he always has and ... he will need you now, more than ever. Enough of politics. Let us pretend that you are a loving daughter and I am a good father.
Lucilla: This is a pleasant fiction, isn't it?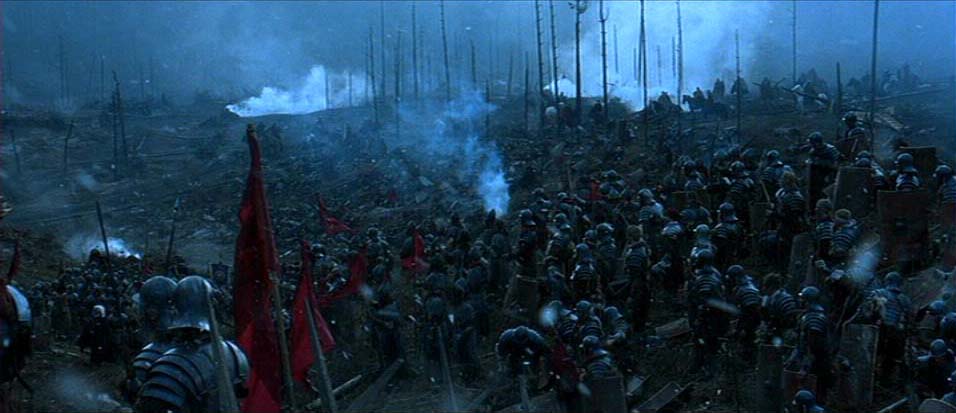 Marcus: Tell me again Maximus, why are we here?
Maximus: For the glory of the empire, Sire.
Marcus: Ah yes, ah yes. I remember. You see that map, Maximus? That is the world which I created. For 25 years, I have conquered, spilt blood, expanded the empire. Since I became Caesar I have known 4 years without war - 4 years of peace in 20. And for what? I brought the sword, nothing more.
. . .
Maximus: 5,000 of my men are out there in the freezing mud. 3,000 of them are bloodied and cleaved. 2,000 will never leave this place. I will not believe that they fought and died for nothing.
Marcus: And what would you believe?
Maximus: They fought for you and for Rome.
Marcus: And what is Rome, Maximus?
Maximus: I have seen much of the rest of the world. It is brutal and cruel and dark. Rome is the light.
Marcus: Yet you have never been there. You have not seen what it has become.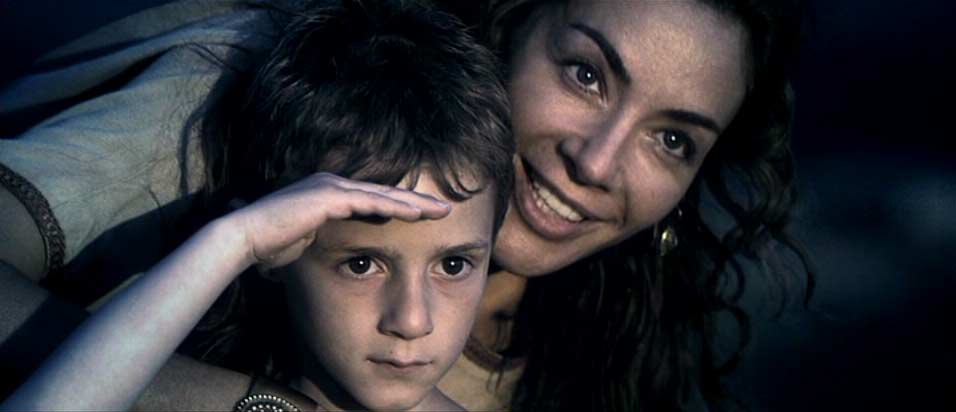 Maximus: My house is in the hills above Trujillo. A very simple place ... pink stones that warm in the sun ... kitchen garden that smells of herbs in the day ... jasmine in the evening. Through the gate is a giant poplar. Figs, apples, pears. The soil, Marcus, black ... black like my wife's hair. Grapes on the south slopes, olives on the north. Wild ponies play near my house, they tease my son. He wants to be one of them.
Marcus: Maximus, when was the last time you were home?
Maximus: 2 years, 264 days and this morning.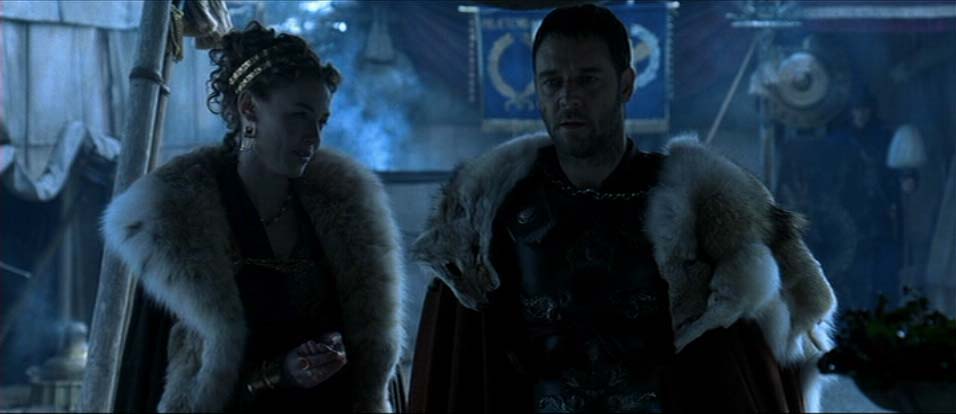 Lucilla: My father favours you now. T'was not always so.
Maximus: Many things change.
Lucilla: Many things, not everything. Maximus, stop. Let me see your face. You seem upset.
Maximus: I lost many men.
Lucilla: What did my father want with you?
Maximus: To wish me well before I leave for home.
Lucilla: You are lying. I could always tell when you were lying because you were never any good at it.
Maximus: I never acquired your comfort with it.
Lucilla: True. But then you never had to. Life is more simple for a soldier. Or do you think me heartless?
. . .
Lucilla: Commodus expects my father to announce succession within days. Will you serve my brother as you have served my father?
Maximus: I will always serve Rome.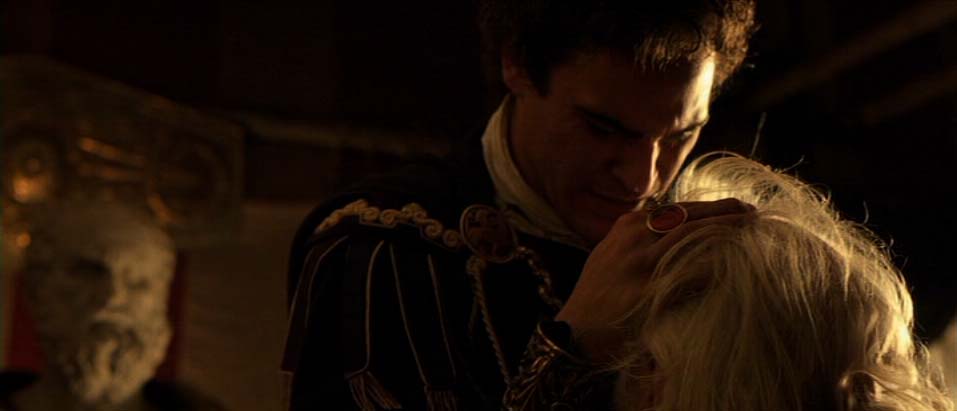 Commodus: You wrote to me once, listing the four chief virtues -- wisdom, justice, fortitude, and temperance. As I read the list I knew I had none of them. But I have other virtues, Father -- ambition, that can be a virtue when it drives us to excel; resourcefulness; courage, perhaps not on the battlefield but there are many forms of courage; devotion, to my family, to you. But none of my virtues were on your list. Even then it was as if you didn't want me for your son.
Marcus: Oh, Commodus, you go too far.
Commodus: I searched the faces of the gods for ways to please you, to make you proud.... One kind word, one full hug while you pressed me to your chest and held me tight, would have been like the sun on my heart for a thousand years.... What is it in me you hate so much? All I ever wanted was to live up to you, Caesar, Father.
Marcus: Commodus, your faults as a son, is my failure as a father.
Commodus: Father, I would butcher the whole world if you would only love me!!!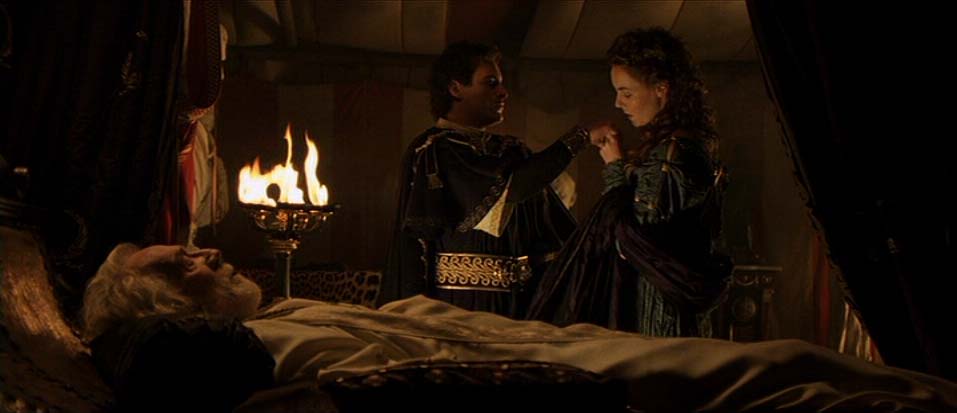 Lucilla: Hail, Caesar.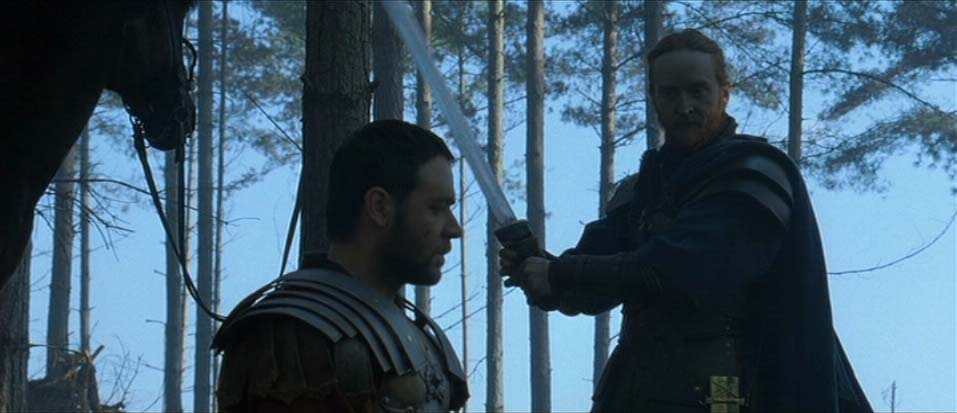 Quintus: Ride until dawn and then execute him.




Maximus: Quintus, look at me. Look at me! Promise me that you will look after my family.
Quintus: Your family will meet you in the after life.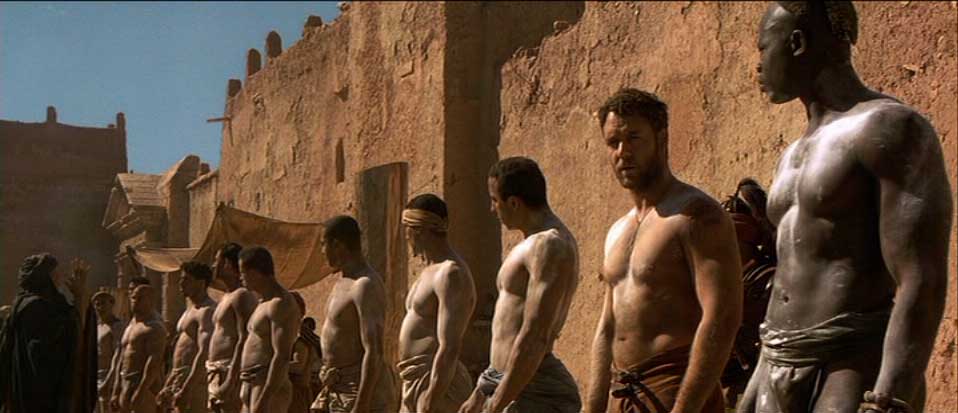 This is as close as it gets to Rusell Crowe's full frontal nudity. And is this supposed to be a gladiator movie?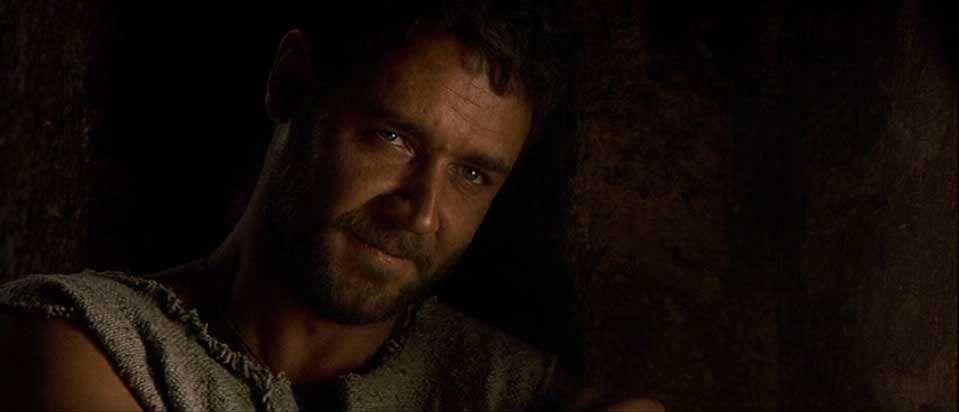 [As Maximus scrapes the mark of Legion, 'SPQR']
Juba: Spaniard, why don't you fight? We all have to fight... Is that a sign of your gods?... Will that not anger them?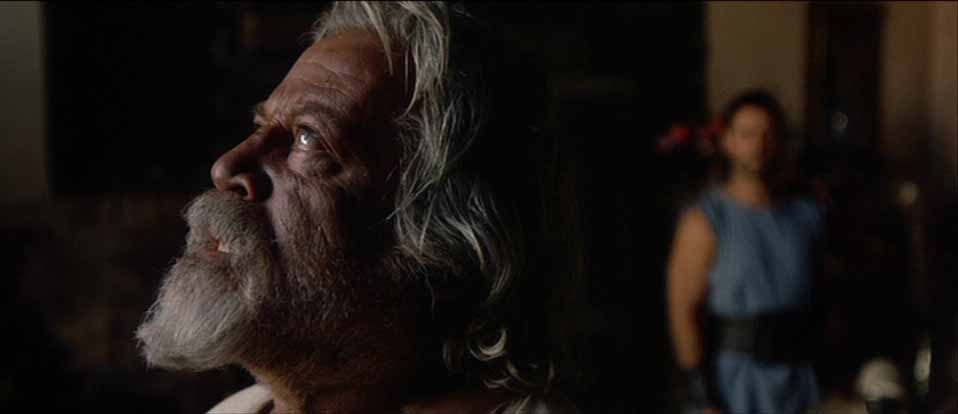 Proximo: So finally after 5 years of scratching a living in flea infested villages we are finally going back to where we belong, the Colosseum. Oh you should see the Colosseum, Spaniard. 50,000 Romans watching every movement of your sword, willing you to make the killer blow. The silence before you strike, and the noise afterwards, it rises, rises up like...like...like a storm, as if you were the Thunder God himself.
Maximus: You were a gladiator?
Proximo: Yes, I was.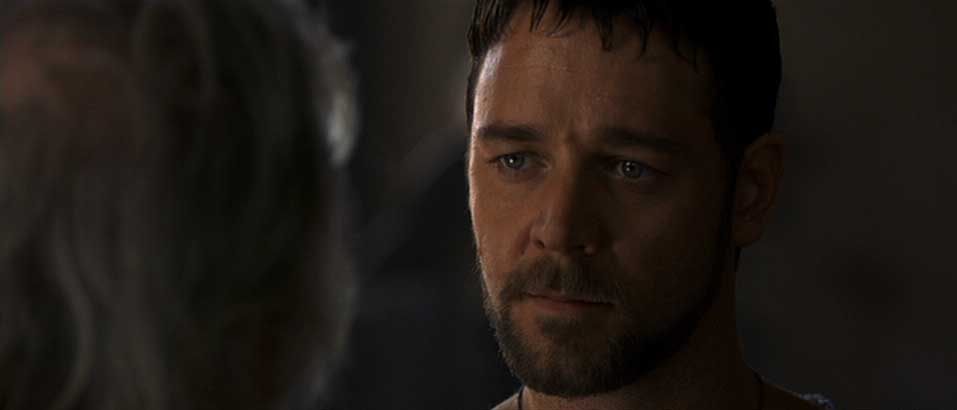 Maximus: I will win the crowd. I will give them something they have never seen before.
Proximo: Haaa! So, Spaniard, we shall go to Rome together and have bloody adventures and the great whore will suckle us until we are fat and happy and can suckle no more. And then, when enough men have died, perhaps you will have your freedom.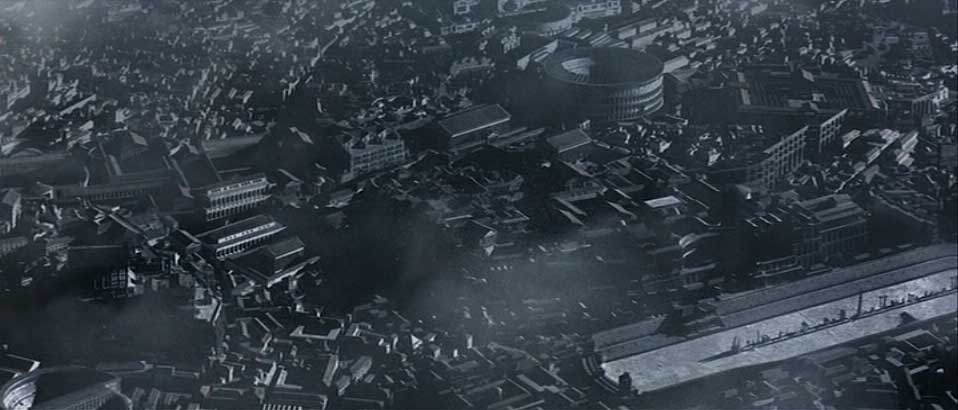 Man, Rome was awfully dark in those days.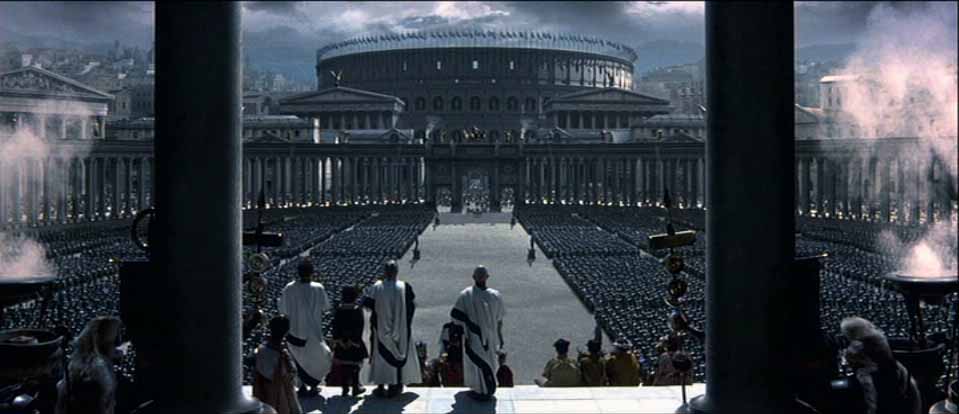 Gracchus: The beating heart of Rome is not the marble of the Senate, it is the sand of the Colosseum.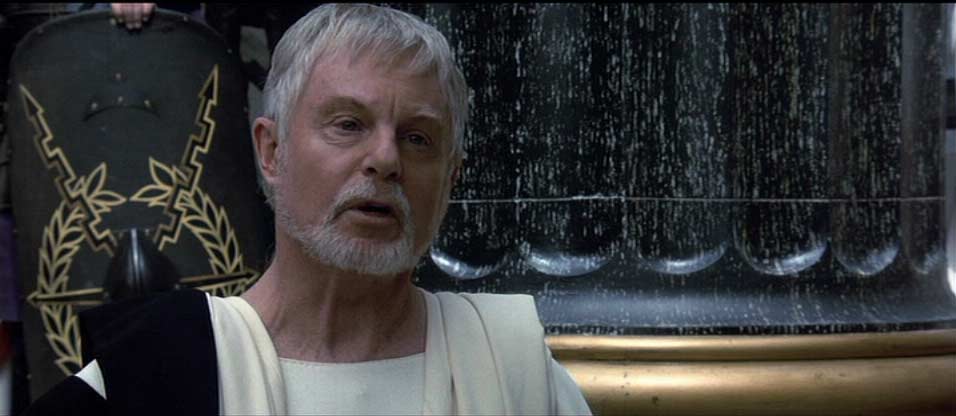 Look, Claudius. I mean, Gracchus
PART TWO